"Everyone carries the archetype of their own beauty within themselves, and seeks the same archetype in the wide world."
Blaise Pascal
Because beauty means health, aesthetics is medicine
At the Centre for Aesthetic Medicine, we view people holistically – in terms of both their inner and their outer integrity. Spiritual wellbeing is just as important as physical wellbeing. We believe, therefore, that the need for a well-proportioned physical appearance is a need that supports health. As medical practitioners, our goal is to achieve ideal beauty in harmony with physical health.
In the same way, when we look at a person, we have a responsibility to always view aesthetic aspects in connection with medical aspects. We support you – with professional expertise of the highest standard and human attention. Choose to place your body in the hands of specialists who have earned the necessary qualifications for this, and will look after you with dedication and sound judgement. It's not without reason that only doctors are permitted to provide the removal of unwanted tattoos and permanent makeup.
We consider it our task is to restore or perfect your quality of life. We are supported in this task not only by our expertise and experience, but also by our state-of-the-art facilities and our principle of looking after our patients personally at every moment, and listening to them carefully. Our procedures have stood the test of time, and we do everything we can to exclude any risks from the treatment in advance. We also take care to ensure the treatment is pain-free, as far as it allows.
We promise you: as our patient, we treat you according to the highest international standards and devote our utmost attention to you at all times. This is because the way you look makes a crucial contribution to a positive attitude to life, and supports your psychological equilibrium long term.
OCZ am Rhein is a private treatment centre for orthopaedics and surgery in Bad Godesberg, Bonn's world-famous embassy location with its cosmopolitan population. Our doctors' high level of expertise in the field of aesthetic medicine is the fruit of their many years of in-depth experience in trauma surgery, post-operative treatment and surgical or conservative procedures in the field of orthopaedics. For example, plasma therapy has also been used with success for treatments of the locomotor apparatus for many years.
A particular specialisation of the orthopaedic surgery discipline is shoulder, elbow and hand surgery. We treat sportspeople and performing artists, and are also active as an accident insurance consultant.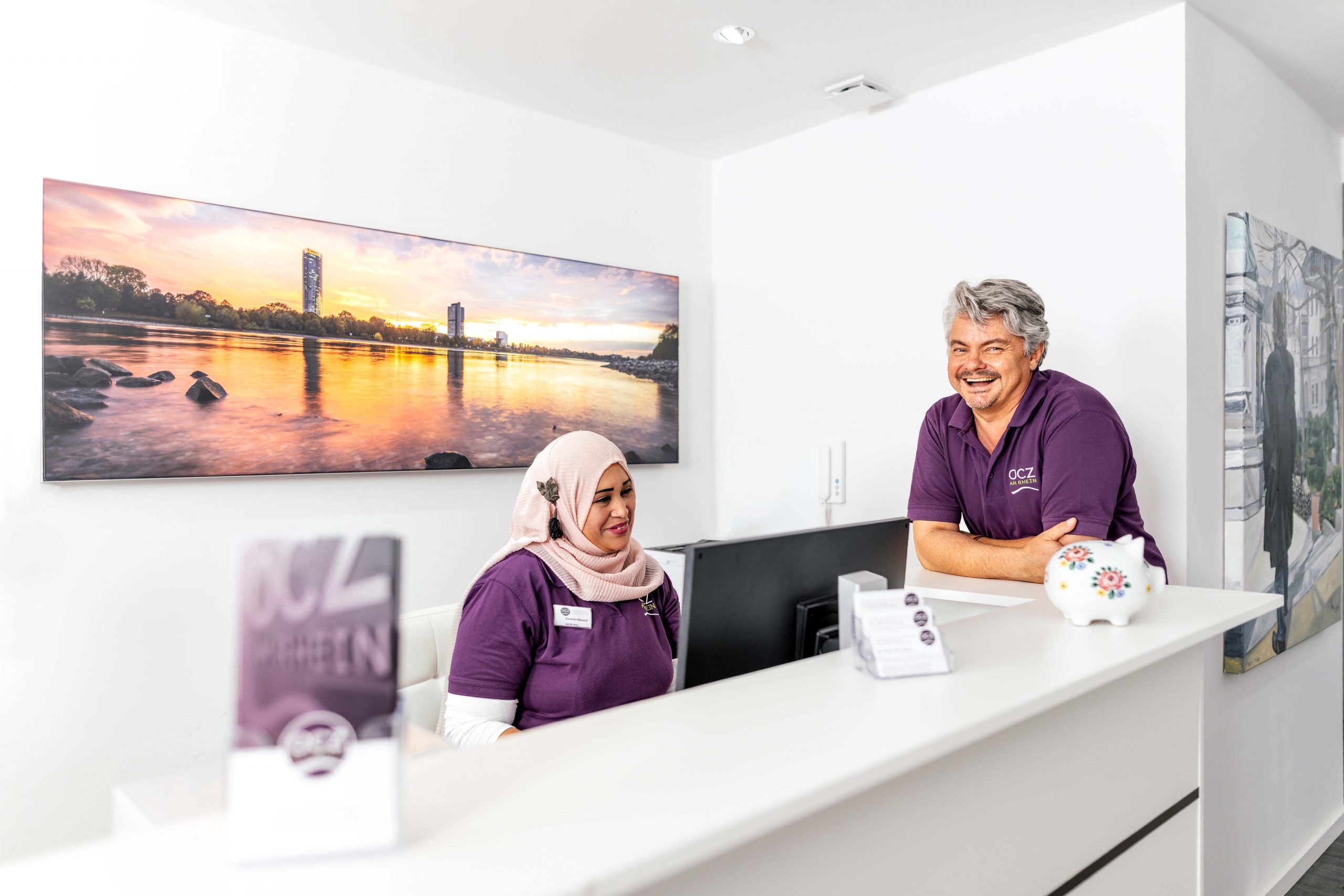 Book an appointment
We devote a lot of time to you to get a thorough anamnesis and make an informed diagnosis. We carry out treatments without any waiting period. We will be more than happy to organise your journey here and a comfortable place to stay, because we don't just regard you as a patient, but also as our guest. Arrange an initial meeting with us here – by video call if you wish. We look forward to seeing you!